In the twelve years Full Basket Belize has provided Community Grants, we have awarded approximately US$39,000 to support grassroots endeavors in all corners of Belize.  Your donations have improved the education, health, and environment as well as youth and community economic development of local communities.
Since FBB is completely volunteer-run, every cent donated goes directly to the programs we support.  Thank you, FBB contributors!
Watch this page for the announcement of our 2018 community grant recipients — coming soon!
For a description of previously funded community grants, visit http://www.fullbasketbelize.org/previously-funded-community-grants.
2017 Grant Recipients

Chabil Yuam Series: Nutrition Sessions for Mothers to Tackle Health Deficiencies in Their Children.  The Aguacate Village (Toledo District) community health workers and a Peace Corps Volunteer will provide a six-week series of cooking lessons and nutritional information to mothers in this indigenous Q'eqchi Maya community.  The focus will be on teaching the mothers healthy nutritional habits for their children.  (Photo at right shows the mothers preparing nutritious food for children.)
Proactive Health Information for Inmates.  The Kolbe Foundation will provide HIV/AIDS and other chronic disease information to inmates at the Belize Central Prison (Belize District).
Raising Rabbits.   The Mopan Technical High School (Cayo District) agriculture teachers will instruct students in how to raise rabbits as a food source and/or for sale as pets.  Funds will be used to build rabbit housing and provide other necessary equipment for the curriculum.

San Pedro Lions Club Eye Screening.  The San Pedro Lions Club will screen the eyes of all registered school children ages 3-14 in Ambergris Caye (2,900+ students), Caye Caulker (539 students), and all of Corozal District (12,200+ students) to detect eye problems.  An average of 7-12% of those tested are referred to an eye doctor, and 1% are referred to an eye specialist.  They also help to provide eyeglasses to those children needing them.
San Vicente Village Water Pipe Extension.  The San Vicente Water Board (Toledo District) will construct pipes to connect ten homes plus the new teachers' house to the village water system.  This will reduce health issues by providing safe, clean, and healthy drinking water to families.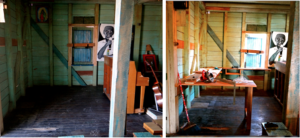 Soul Project (Community Space for Creative Arts) Editing Bay and Secure Storage.  The Community Space for Creative Arts (Cayo District) teaches film making and film production to community youth.  Project funds will cover the cost of materials to build an editing bay and secure storage for recently donated electronic equipment, cameras, and computers.  (Left photo is the before and the right shows the progress to date.)
last updated 5 November 2017 jl